WSS Youth Climate Summit: Redesigning Education to Map to Global Sustainability – Jan 2024
January 13, 2024
@
9:00 am
–
4:00 pm
PST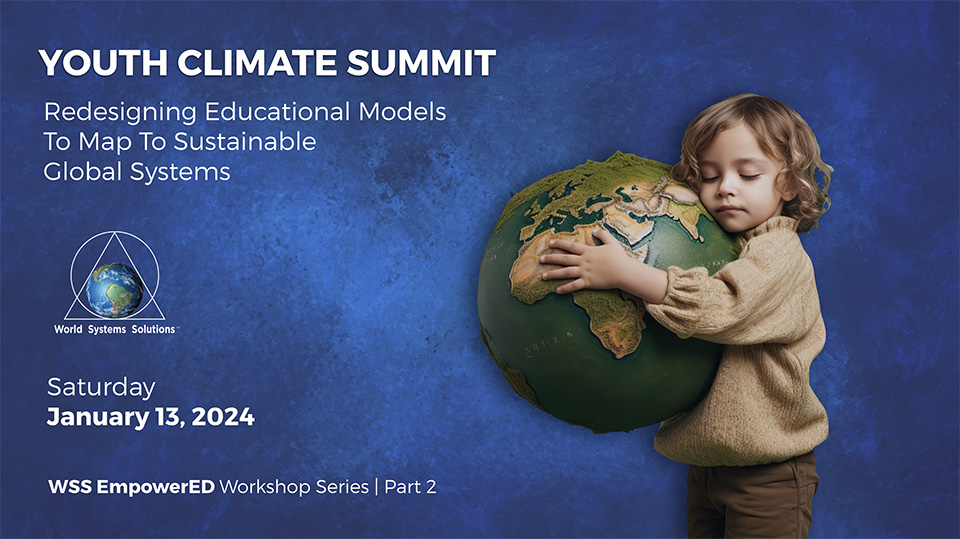 We invite you to be a part of redesigning education to map to global sustainability for humanity and future generations.
Amidst a climate crisis, technological disruption, evolving work landscapes and eroding institutional trust, current educational models are inadequate in preparing individuals of all ages to navigate these changing times. This highlights the urgent need for a profound redesigning of educational models to map to sustainable global systems. We invite you to this rolling workshop series that works together to proactively address the demands of our swiftly evolving world.
Join us for an all-day event on Saturday, January 13. This is an opportunity for youth, youth organizations, curriculum developers, climate experts, and government officials to come together to redesign education and collaborate on an approach that steers humanity in a more sustainable direction.
In this summit we will:
Hear youth's unvarnished perspectives and innovative ideas about transforming education
Create a space for youth to collaborate on meaningful redesigns of education
Address how the loneliness crisis and lack of trust models prevents and impacts youth's ability to proactively solve the climate crisis
Address the importance of preparation for a rapidly changing world
Collaborate on effecting curriculum changes in the time necessary
Learn how the Phoenix Platform can amplify youth voices and support their intentions while providing opportunities to be a part of climate solutions and free education
Summit Goals:
Discover pathways to empower youth, women and underrepresented groups by redesigning the educational system from the ground up.
Understand how the near-term application of AI and technology tools can be used to redesign the educational system.
Explore how the educational system can be transformed to result in green jobs creation and venues for application of the necessarily acquired skills.
Determine many of the requirements for the Phoenix Platform, where above mentioned skills can be applied to bring catalytic effect to the resolution of the climate crisis.
Create a workshop model or strategy for ongoing youth collaboration at large scale to amplify efforts and impacts.
Join Zoom Meeting:
https://us06web.zoom.us/j/89335860070?pwd=Yr8ZOa0d2BrES7DSb9DeOJaWt6FzRa.1
Meeting ID: 847 0766 2209
Passcode: 718768
One tap mobile
+13052241968,,84707662209#,,,,*718768# US
+13092053325,,84707662209#,,,,*718768# US
Dial by your location
• +1 305 224 1968 US
• +1 309 205 3325 US
• +1 312 626 6799 US (Chicago)
• +1 646 931 3860 US
• +1 929 205 6099 US (New York)
• +1 301 715 8592 US (Washington DC)
• +1 564 217 2000 US
• +1 669 444 9171 US
• +1 669 900 6833 US (San Jose)
• +1 689 278 1000 US
• +1 719 359 4580 US
• +1 253 205 0468 US
• +1 253 215 8782 US (Tacoma)
• +1 346 248 7799 US (Houston)
• +1 360 209 5623 US
• +1 386 347 5053 US
• +1 507 473 4847 US
Meeting ID: 847 0766 2209
Passcode: 718768